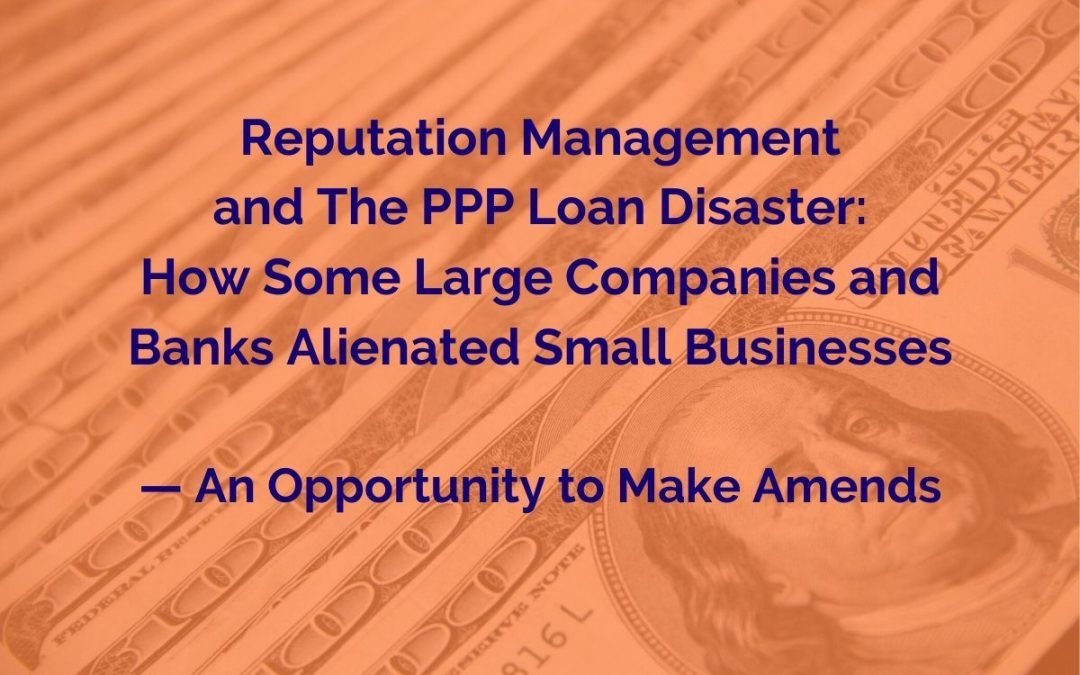 Reputation Management and The PPP Loan Disaster: How Some Large Companies and Banks Alienated Small Businesses — An Opportunity to Make Amends
Update 4/23/20 — Since yesterday, more of the large companies that received PPP loans have vowed to return them, including Kura Sushi, Sweetgreen, Ruth's Chris Steakhouse, and DMC Global.
Update: 4/21/20, 3:00 PM — Steve Mnuchin said in a press conference that large companies will have to return the PPP loans they took or prove they meet the criteria to receive them. Harvard University will also have to return its $8 million PPP loan. More funds were approved for PPP loans for small businesses.
Update: 4/20/20, 6:30 PM — There are now class-action lawsuits filed against Bank of America, Chase, US Bank, and Wells Fargo.
4/20/20 – When the U.S. Congress approved the Payroll Protection Program (PPP) to allow the U.S. Small Business Administration (SBA) to distribute $350 billion to small businesses in March, the criteria seemed to be clear. This was meant for businesses with fewer than 500 employees, most of which would have greater difficulty accessing funding to see them through the coronavirus pandemic than would larger companies.
On April 17, it was announced that Ruth's Chris Steakhouse (Ruth's Chris) received a PPP loan for $20 million, Potbelly Sandwich Shop (Potbelly) and Shake Shack each received PPP loans for $10 million, despite each having at least 10 times the 500-employee limit for the loan and reporting annual profits in the multi-millions. As public companies, their financial statements are publicly available. Understandably, there are lots of enraged small business owners who did not receive PPP loans because funds were exhausted.
After I wrote the first draft of this article on April 19, it was announced that Shake Shack had returned the $10 million PPP loan they received. The company issued a statement that explained that they had initially based their eligibility for the loan on the fact that each of their locations had fewer than 500 employees. However, when they learned that other companies who could use the money more, they decided to return the loan and secure funding elsewhere. It will be interesting to see if other companies follow suit.
What Were They Thinking?
With no public statements issued to date in response to the backlash from Ruth's Chris or Potbelly, people are left to speculate as to why these large, well-funded public companies, would apply for PPP loans in the first place. One might venture to guess that this was a decision made only with financial security in mind and without consideration for the potential damage to the companies' reputations, let alone the damage to other small businesses that could not survive without a PPP loan. Such decision-making is very short-sighted.
The Damage is Already Occurring.
Some people view the actions of these companies in this way: there is a shortage of bandages and while some small businesses are bleeding out right now, some bigger businesses are stockpiling the bandages in case they need them in the future. You can read the angry comments on social media posts with hashtags like #boycottruthschris and #boycottpotbelly. There are also negative Yelp reviews about what people are calling a "corporate money grab".
Banks Are Also Being Blamed.
JP Morgan Chase (Chase), the bank that issued the loans to Ruth's Chris and Potbelly, is also receiving some blame from small business owners that believe these large businesses received preferential treatment in the PPP loan-decision process. Some are asking why these loans were approved and question whether the bank favored companies that owed them money. Chase is now experiencing its own reputation-management issues as #boycottchase is used in many social media posts from incensed small business owners that are demanding transparency about the bank's loan allocation process.
Wells Fargo is receiving similar vitriol on social media with #boycottwellsfargo hashtags used by disgruntled small business owners that applied for PPP loans early only to be later notified that funds had run out. A lawsuit has been filed against Wells Fargo that alleges that they reprioritized the applications to serve larger companies before smaller ones.
Decisions Made Solely Based on the Bottom Line Can Backfire.
When a business makes a decision solely on financial gain and without thought to the effects of that decision on public perception or actual harm to others, there are often disastrous consequences. This is never truer than during times of crisis. Companies, or individuals for that matter, that appear to be overly opportunistic at the expense of others are judged especially harshly. At times like this, actions and optics are extremely important.
Appearing to exhibit corporate greed and using public funds meant for companies that truly need it to survive or appearing to favor your big-money clients can have high financial costs. Unless they do something very soon, these companies are likely to lose revenue from boycotts, reputational damage and, possibly, experience reduced stock valuations based on decreased revenues and negative media and social media coverage.
When Many Companies Are Giving, No One Likes a Taker.
With so many companies giving money, resources, and time to help others during this pandemic, anything that could be viewed as corporate greed seems especially egregious by comparison. As people share positive stories of companies quickly reconfiguring their facilities to manufacture much-needed equipment and products, donating money, food, hotel rooms, and other items to help our first responders and ordinary citizens to get through this pandemic, no one wants to support businesses that appear to be taking advantage of the situation.
There Is an Opportunity to Repair the Damage, to Some Extent.
While some people will never forgive these companies for their actions, there is an opportunity for them to repair their reputations and move forward with a demonstration of greater sensitivity to their fellow humans.
Here is a simple, three-step plan that Ruth's Chris and Potbelly can follow: 
Give the money back.
To some, this may seem extreme, but large companies that received PPP loans and return them immediately could repair damaged reputations and may prevent boycotts and future sabotage from an angry public.
Issue a heart-felt apology with action steps.
The apology should include specific actions the company is taking to make amends and provide help during the pandemic and, possibly, thereafter. Shake Shack's fast action in returning the funds and the company's public statement about their initial reasons for applying for the loan and then returning it serve this purpose.
Include public affairs/public relations professionals in decisions that involve public funding.
There is a long history of U.S. citizens expressing outrage over the use of public funds to prop up large companies. The decisions companies make in these situations are NOT solely financial. They have major repercussions. Companies should be proactive and include the right team members to offer different perspectives on the potential consequences of their actions so they can make better decisions in the first place.
The Banks Should Also Take Quick Action.
Chase and Wells Fargo should be transparent about their PPP loan application process. When I asked a representative of Chase on April 17 if they processed the applications of larger companies first, she said that they did. The SBA had indicated that these loans were meant to be processed on a first-come-first-served basis, so this was not the response I was expecting.
Chase and Wells Fargo can easily clear up any allegations of unfair treatment to small businesses by doing the following:
Publish the loan numbers of the companies that received funding in sequential order.
They would not have to release any private information about the companies to do this.
Explain how they came to the conclusion that these large, public companies should receive the loans that they did.
This is especially important given the fact that they are public companies with other sources of funding and they do not appear to the funds to keep their operations going and their employees paid during the pandemic.
Be transparent about PPP loan-processing procedures going forward.
They should share a concrete plan that will ensure transparency and adherence to SBA rules regarding the allocation of PPP loans going forward.
If they are in the wrong with their practices, they should issue a heartfelt apology.
Doing this before the truth is revealed when public records are shared by the SBA would be the best course of action.
Will it Work?
Doing nothing will surely lead to further damage to the reputation and, most likely, the bottom line of each of these companies. Some people will never forgive these companies for their actions and will do everything they can to destroy their reputations and businesses, but some will forgive them if they do the right thing.
Quick action, such as that taken by Shake Shack will put the company back in many people's good graces. Many Americans like stories of growth and redemption, and they can be understanding when people admit to a mistake, especially when it was due to a misunderstanding. Some people hang onto their grudges, so there is little one can do about that.
The banks will have a more difficult time regaining people's trust because people take their money and, thereby, their survival very seriously. In any case, repairing or minimizing damage and setting the course for a better future is always a good strategy.
Lisa Elia, the author of this article and founder and lead trainer at Expert Media Training, provides services crisis communication services, media training, presentation training, investor pitch coaching, and other communication services.
For a complimentary consultation contact our office at 310-479-0217.
This post was written by Lisa Elia, a media trainer, presentation trainer, pitch coach, communication expert, and speaker. She trains clients around the world for media interviews, speeches, internal and external presentations, panels, investor presentations, and promotional videos. With more than 25 years of experience, Lisa has prepared clients for interviews with TODAY, GMA, The Wall Street Journal, CNN, ESPN, and hundreds of other outlets. Lisa has shared her expertise with national media outlets that include Inc., Entertainment Tonight, E!, and many others. Clients include entrepreneurs, Fortune 500 companies, and everything in between as well as athletes, celebrities, and other public figures.