Communication Tips for Spending Holidays with Family
The holidays are coming up and they can be stressful for a lot of people. Go in with a plan to handle challenging people and situations, especially if you'll be spending holidays with family. 
Keep in mind that just because you're related to people doesn't automatically mean they're "your tribe" in terms of the way they see things or how they believe people should be treated. Maintain your values and avoid getting sucked into others' drama. A brief pause before responding can do a world of good!
Remember that this moment is not your entire life. Maintain the parts of your routine that make you feel centered, calm, and confident. Exercise, meditate, get outside, and review your vision for your life to relieve stress, increase your energy, and remind you of the life you've created for yourself.
Know that not everyone needs to hear your opinion on everything. Make a choice. Is it worth giving up your peace of mind to prove a point, even though it may put your body into a stressful state that can harm your brain?
Be empathetic and curious, especially during disagreements. When you aim to understand other people's perspectives, knowing they're not necessarily about you, it's easier to remain calm and open.
Use the "kind, true, and necessary" test from radio host Bernard Meltzer:
"Before you speak, ask yourself if what you are going to say is true, is kind, is necessary, is helpful. If the answer is no, maybe what you are about to say should be left unsaid."
If you expect to see someone who tends to insult you, plan how you will respond. Avoid trading insults. If you don't want to escalate the situation, here are a few ideas:
"I don't agree with your characterization of me. Let's get back to enjoying our time together."
"I've got a good handle on/I'm quite happy with (fill in the blank)."
If you want to confront the person who is insulting you regarding their behavior, do so privately. Hashing it out in front of everyone else will probably make them uncomfortable.
Decide in advance what your boundaries will be. Instead of answering questions you find intrusive, reply with a response such as:
"I'll let you know when I have something to tell you."
Refer to these tips for spending holidays with family as needed and enjoy them as much as you can!
Would you like more tips and articles delivered straight to your inbox?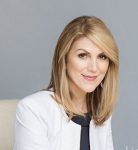 This post was written by Lisa Elia, a media trainer, presentation trainer, pitch coach, communication expert, and speaker. She trains clients around the world for media interviews, speeches, internal and external presentations, panels, investor presentations, and promotional videos, and provides executive and team communication coaching.
With more than 25 years of experience, Lisa has prepared clients for interviews with TODAY, GMA, The Wall Street Journal, CNN, ESPN, and hundreds of other outlets. Lisa has shared her expertise with national media outlets that include Inc., Entertainment Tonight, E!, and many others. Clients include entrepreneurs, Fortune 500 companies, and everything in between as well as athletes, celebrities, and other public figures.