Keynote Speaker and Panel Moderator Lisa Elia
Keynote speaker and panel moderator Lisa Elia blends heart, humor and intellect, engaging audiences and providing fresh, actionable content.
Lisa delivers lively, information-packed presentations to audiences that include executives, entrepreneurs, sales teams, sports teams, women's groups, nonprofit organizations and more. As an experienced media trainer and communication expert, her presentation style combines warmth, professionalism and humor. Over the past 20 years, she has delivered presentations for Marketwired, The Entrepreneur's Institute, UCLA Anderson School of Management, University of Delaware, and hundreds of other organizations. In addition to speaking, Lisa has hosted panels for a variety of events, including those at her Meet the Media Day events, during which she moderated panels of 10 top media producers and editors.
The content on this page is geared toward speaking bookers. If you're interested in hiring Lisa Elia for media training, presentation training, pitch coaching or communication coaching, you can learn more on our Services page. Or, feel free to call us at 310-479-0217.
Lisa has shared her expertise in national media outlets that include:

.
Partial List of Clients
Adli Law Group
California State University, Fullerton
Chrysalis
Events in America and EventBrite
EWomenNetwork
Fashion Business, Inc.
First Tuesday Los Angeles
Holistic Chamber of Commerce West Los Angeles
International Federation of Coaches Los Angeles
Leadership Connection for Childcare
Marketwired
National Council of Jewish Women LA
Speaker Services
UCLA Football Team
UCLA Anderson School of Management – The Entrepreneur's Institute
The Urban League of Los Angeles
Universal Music Group
University of Delaware, Small Business Development Center
Youth Business Alliance
Topics on Which Lisa Elia Can Present as a Keynote Speaker or for Breakout Sessions Include:
Powerful Communication in Meetings: How to Be Heard & Remembered
Text, Email or Phone: Choosing the Right Method for Your Message
The 10-Step Communication Clean-up: 10 Shifts to Transform Your Life
Body Language Tips & Tip-Offs: Elevating Awareness of Yourself & Others
5 Conversation Killers to Avoid & New Habits to Replace Them With
Crisis Communications Planning: Why Everyone in Your Organization Should Be Included
Integrated Communication Planning: Creating Brand Consistency throughout Your Organization
Communication & Your Company Culture: Language & Behaviors that Shape Your Organization
And Other Communication Topics
Lisa customizes speeches and presentations for each group.
To inquire about booking Lisa, contact the Expert Media Training Team at 310-479-0217 or team@expertmediatraining.com
.
Lisa as a Panel Moderator
Lisa has been the panel moderator at several large events as well as at her two Meet the Media Day events, during which she interviewed members of the press, from The Associated Press, Clear Channel Radio, SELF, Los Angeles Times, Natural Health and other top outlets. She is able to deftly move discussions forward and keep panelists on track while allowing for moments of humor and surprise that keep audiences engaged.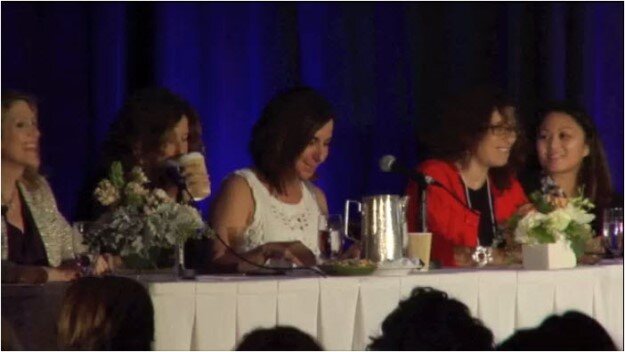 .
To book Lisa as a speaker or panel moderator or to lead media training workshops or private sessions, contact our office  at 

310-479-0217

.