Presentation Training and Speaker Training

Stepping in front of a microphone or a group of people to make an important presentation, and coming across powerfully, effectively and naturally, requires preparation.
We provide presentation training and speaker training for clients who must deliver speeches to large crowds, or those who are making presentations to investors or other groups of people. Our clients leave our training with polished public speaking skills and techniques to feel comfortable presenting to anyone.
Some of our clients come to us for assistance with developing the content of investor presentations or speeches, or identifying holes or weak spots in the content. Other clients come to us for the work we do with all of our clients, enabling them to communicate their messages most effectively: vocal delivery, nonverbal communication and energy.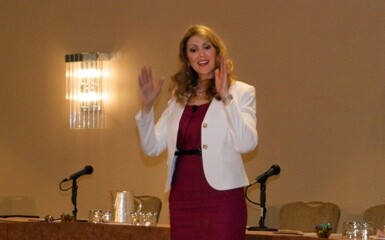 "As someone who has addressed thousands of audiences over a span of more than 25 years, I understand what it takes to deliver a powerful speech or presentation that makes a great impact. I also understand what gets in the way of achieving those results. My coaching technique combines strategy, structure, intellect and emotion. Even when working with groups of people, the training is highly individualized based on the needs of each person."
Lisa Elia, Founder and Lead Trainer at Expert Media Training®
To discuss your needs for presentation training, speaker training or preparation for investor presentations, from Los Angeles Presentation Trainer and Media Trainer Lisa Elia, call us at 310-479-0217 or email team@expertmediatraining.com
Save
Expert Media Training® is registered with several government agencies and qualified to act as a government contractor or subcontractor. The firm is certified as a Women Business Enterprise (WBE), Woman-Owned Small Business (WOSB), Small Business Enterprise (SBE) and a Community Business Enterprise (CBE), certified by the County of Los Angeles.