Do you need social media tips that will help you to create relationships with the press?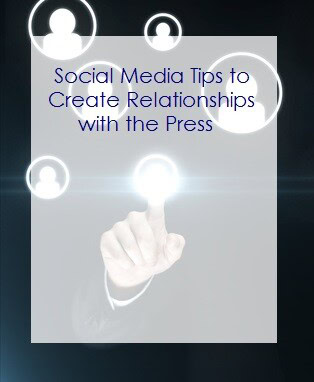 Use these social media tips, from a PR Expert and Media Trainer, to get on the press' radar.

If there are certain bloggers or media personalities who you think would be interested in you, your company, products or services, search for them and follow them on social networking sites, such as LinkedIn, Twitter and Facebook. Members of the media sometimes post queries on social media sites, or they may see what you are working on and contact you to interview you.
Here are a few

social media tips

that can help you to get started:
You can follow specific writers, producers and departments of your favorite media outlets like The New York Times Health Section, Fortune Magazine, Today Show 4th-hour hosts Kathie L. Gifford and Hoda Kotb. Make them aware of you by commenting on, or sharing, their articles, tips or segments. Be sure to the outlets or content creators so they see that you shared their content. If you add an insightful comment, this can help capture their attention, too.
One of our favorite tools to find people and companies on Twitter is Twellow. It's free and it's like the Twitter Yellow Pages. You can enter in keywords that you think the people you're searching for would use in their profiles, such as "health writer" or "fashion producer".
Once you've used these social media tips to follow your targeted writers and producers and media outlets, DO NOT pitch them through social media or post promotional materials or pitches on their walls. There's not much that screams, "I don't understand how social media or any media works," more than a post that reads, "Hey, Oprah. Want to interview us?" (Just don't do it.)
Members of the media generally prefer to be pitched through email (and occasionally by phone). What you can do to get on the radar of media producers and editors is to share great posts and links to stories on your Facebook wall or Twitter feed and comment positively on their stories, being sure to them.
On Twitter, be sure to use hashtags that pertain to your area of expertise and topics you can discuss. Members of the media often use hashtags to search for people to interview.
You may want to take a look back at your profiles on all social media sites to see how members of the media would find you and what their opinion of you may be, based on your profile. If one of your profiles doesn't represent the brand or image you want to convey, now's the time to update them.
Using these social media tips can lead to press bookings. Just make sure you are properly prepared for the interviews. This is where media training and presentation training can help.
Now that you have the social media tips you need, do you need tips on engaging the media with video or on creating an online press room that the media will love?
Read the blog posts below.
Video Engagement Tips from a Media Trainer and PR Expert:
https://expertmediatraining.com/video-engagement-tips-from-media-trainer/
How to Create an Online Press Room That the Media Will Love, from a Los Angeles Media Trainer
https://expertmediatraining.com/online-press-room-tips-from-media-trainer/
If you want to share these social media tips with your friends, you can do so by using the share buttons below.
I hope these social media tips help you to create relationships with the press that lead to great TV, radio or print features for you and/or your business.