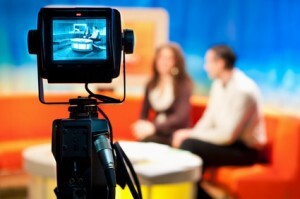 With the increase in opportunities for people to be interviewed by a variety of outlets, more people are becoming aware of the need for media training. As more people begin to make their own videos they may also see that it's not always as easy as it looks to deliver content in a smooth, engaging way. Add to this the pressure of being asked questions by an inquisitive reporter and you could have a nerve-racking situation. BUT, that doesn't have to be the case.
Like anything else you want to master, learning to handle interviews well just takes practice and guidance. Being a great speaker from the stage or being comfortable making your own promotional videos is not the same as being ready for a media interview.
Here's my analogy. Rocking out on the dance floor is to the dancing the tango beautifully, what creating your own videos well is to being great in a media interview. To explain: you may be someone who's comfortable and even looks good freestyling on the dance floor (like creating your own videos). But, would you be able to do the tango without lessons and practice? The tango is precise and intricate and it takes practice to make it smooth and crisp (like being able to answer questions concisely, without hesitancy and with great energy).
Just as you would get training if you wanted to do the tango well, you should get media training if you want to interview well.
You may have seen my other media interview video tips, and this one will give you more to think about.
Watch the media interview video below for some quick media training tips.

Here are more resources you can access on our site.
Frequently Asked Questions about Media Training
https://expertmediatraining.com/faqs-about-media-training/
Media Interview Checklist from a Los Angeles Media Trainer
https://expertmediatraining.com/media-interview-checklist-from-a-media-trainer/
How to Create an Online Press Room That the Media Will Love
https://expertmediatraining.com/online-press-room-tips-from-media-trainer/
Prepare for TV Interviews BEFORE You Book One – Tips from an LA Media Trainer and Spokesperson
https://expertmediatraining.com/prepare-for-tv-interviews-media-trainer-tips/