Eliminate fillers, such as "um, "like," "you know," and "I mean," to communicate more clearly and confidently. You will appear more self-assured, polished, and prepared if you use fewer filler words.
The overuse of fillers detracts from your message. Quite often, people focus more on your filler words than your actual message. Furthermore, people might wrongly assume that your overuse of fillers means that you don't know what you're talking about, you're lying, or that you're nervous.
Pause when you need a moment to gather your thoughts and before responding to questions. Do this in EVERY conversation you have and you will get used to those moments of silence, which are actually helpful for listeners who are taking in the information you are delivering.
While some people might advise you to simply stop using fillers, it's often more effective to replace a behavior you want to avoid with a behavior you want to exhibit. Replace fillers with silence.
The best way to become a great presenter, public speaker, or media spokesperson is to elevate your communication skills on a daily basis.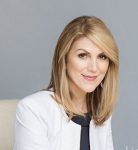 This post was written by Lisa Elia, a media trainer, presentation trainer, pitch coach, communication expert, and speaker. She trains clients around the world for media interviews, speeches, internal and external presentations, panels, investor presentations, and promotional videos, and provides executive and team communication coaching.
With more than 25 years of experience, Lisa has prepared clients for interviews with TODAY, GMA, The Wall Street Journal, CNN, ESPN, and hundreds of other outlets. Lisa has shared her expertise with national media outlets that include Inc., Entertainment Tonight, E!, and many others. Clients include entrepreneurs, Fortune 500 companies, and everything in between as well as athletes, celebrities, and other public figures.