When I was a child, my family lived in Geneva, Switzerland for a few years for my father's job at DuPont. When I got older, my father told me that there were times that he was in meetings with people he had reason to believe were Nazis, which incensed him. He'd served in the U.S. Navy in WWII, so this must have added another layer of outrage for him.
I'm writing this today because I believe many people in business have shied away from expressing our views on politics and social issues publicly to avoid alienating people with whom we do business that might hold beliefs that differ from our own.
I feel as if recent events are compelling us to rip the tape from our mouths as we can no longer hold back. If I speak out on behalf of racial justice or any other cause that supports greater equality and respect for ALL people and it offends someone, I am not the trainer for them.
We each have to find our tribe. My tribe consists of people who love people and are anti-racist. Period.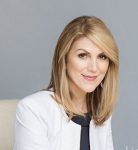 This post was written by Lisa Elia, a media trainer, presentation trainer, pitch coach, communication expert, and speaker. She trains clients around the world for media interviews, speeches, internal and external presentations, panels, investor presentations, and promotional videos, and provides executive and team communication coaching.
With more than 25 years of experience, Lisa has prepared clients for interviews with TODAY, GMA, The Wall Street Journal, CNN, ESPN, and hundreds of other outlets. Lisa has shared her expertise with national media outlets that include Inc., Entertainment Tonight, E!, and many others. Clients include entrepreneurs, Fortune 500 companies, and everything in between as well as athletes, celebrities, and other public figures.