Sometimes a TV producer or editor from a media outlet contact experts in the hopes that the experts will share exactly the opinion they want in order to shape their story. If you're an expert, it's important that you maintain your integrity and only say what you truly believe. Otherwise, you simply become a mouthpiece for others, and a few minutes on TV isn't worth compromising your integrity.
Know your boundaries and maintain them.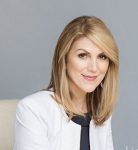 This post was written by Lisa Elia, a media trainer, presentation trainer, pitch coach, communication expert, and speaker. She trains clients around the world for media interviews, speeches, internal and external presentations, panels, investor presentations, and promotional videos, and provides executive and team communication coaching.
With more than 25 years of experience, Lisa has prepared clients for interviews with TODAY, GMA, The Wall Street Journal, CNN, ESPN, and hundreds of other outlets. Lisa has shared her expertise with national media outlets that include Inc., Entertainment Tonight, E!, and many others. Clients include entrepreneurs, Fortune 500 companies, and everything in between as well as athletes, celebrities, and other public figures.