Several months ago, I was hired to provide media training for the family of the Bella Twins, stars of the E! Entertainment TV show, "Total Divas". While the twins, Brie and Nikki, are accustomed to being in the spotlight, their mother Kathy and brother JJ were less so. As I prepared them for their inaugural trip down a red carpet, which was to be at the ESPY Awards, I made sure to ask them the many prying questions that members of the media might ask about the Brie and Nikki, among other things.
Part of our training session was included in last night's episode of Total Divas. As with most TV interviews, you have no control over what finally airs. The link below is to a very small portion of the training session. As you can see, JJ's responses to my questions were entertaining, but if he used them in an actual media interview, he could have led the conversation down an unintended path. Fortunately, he listened and made adjustments, as the best clients do.
One of the things I love about my work is the diversity of clients I get to work with; corporate clients one day, and athletes and their family the next.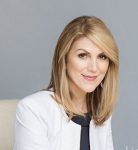 This post was written by Lisa Elia, a media trainer, presentation trainer, pitch coach, communication expert, and speaker. She trains clients around the world for media interviews, speeches, internal and external presentations, panels, investor presentations, and promotional videos, and provides executive and team communication coaching.
With more than 25 years of experience, Lisa has prepared clients for interviews with TODAY, GMA, The Wall Street Journal, CNN, ESPN, and hundreds of other outlets. Lisa has shared her expertise with national media outlets that include Inc., Entertainment Tonight, E!, and many others. Clients include entrepreneurs, Fortune 500 companies, and everything in between as well as athletes, celebrities, and other public figures.