With more people than ever conducting business from home, the use of video to hold meetings, media interviews, sales presentations, and investor pitches is becoming the norm. Even after social distancing measures are lifted, many business leaders are predicting that the use of video conferencing will replace many in-person meetings going forward for reasons of health, cost-savings, and efficiency.
This is part 1 of our series of blog posts to provide tips on not only how to set up your environment, but also the shifts you need to make to communicate effectively in video meetings and presentations.
To read part 2 of this blog series, How to Be Effective in Virtual Meetings and Presentations: Adjusting Your Communication Style, click here.
How to Hold Effective Video Meetings and Presentations: Preparing Your Set-up, Your Environment, and Yourself
Prepare Your Set-up and Your Environment.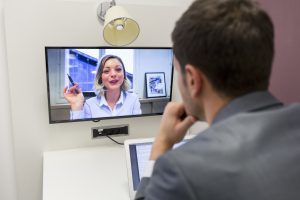 With video calls, it's as if you are inviting someone (or a group of people) into your office, so it's important to create a good experience for them.
Create a space where you can hold video calls. If you can keep it ready to go with little last-minute modification needed, you can save time and minimize stress. Here are some tips.
Consider your background.
Make sure your background is as free of distractions as possible. Log onto your video conference software or video yourself to see what might cause a distraction in your background. Family photos, artwork or even a stray paper or two can steal focus from you. Books and simple artifacts on a shelf can make for a good backdrop You may decide to set up your video conference/recording area in another part of your home or against a different wall.
Replace your background, if necessary, using green-screen technology.
Zoom video conferencing software, which is what many people are using now, allows you to upload photo and video backgrounds or choose one that is provided. (If you use Zoom, please use a password to protect yourself against Zoombombers, which are hackers that burst into your Zoom meeting.)
Some webcams also allow you to replace your background. These technologies work best with a green screen behind you. You can purchase a collapsible green screen. The ones with the pneumatic frames are especially easy to open and close. Rather than purchasing a green screen, you could paint a wall or large piece of cardboard with chroma key green paint or purchase green-screen wallpaper or wall decals. 
Remove distracting items that will be in view on your desk.
Remove distracting photos, knickknacks, and food from the customer's view. If you have a beverage, be sure the cup or glass you use is something you would use in a professional setting.
Raise your computer.
Place your computer on a stack of books or a box so you're looking at it at eye level or slightly higher. Avoid having to look down at your computer which will distort your face and can create neck and back problems. If you have an adjustable desk or standing desk, you can use that to hold your computer. If you have an external webcam, place it on top of your computer and adjust the height of your computer so your webcam is at eye level or slightly higher.
Upgrade your equipment, if necessary.
Webcam – A good external webcam can improve the quality of your video transmission through higher resolution, speed, and fluidity. I use this Logitech C922x Pro Stream Webcam.
Microphone – Poor sound quality on a video call can lead participants to strain to hear, which can lead to frustration and negative opinions and emotions. A good external microphone can be worth the investment. Depending on the sensitivity of your external microphone, place it approximately 4 to 10 inches from your mouth. I sit approximately 5 inches from my Blue Yeti microphone.
Light your face.
Place soft lights behind your computer screen or webcam with the light reflecting on your face, if possible. If you want to up your video game, you can purchase one of the many "ring lights" that are available. Some of them allow you to adjust the tone of the light and they sit on an adjustable tripod so you can raise and lower the light. The ring light I use allows you to adjust the quality of light, which I like. 
Test your equipment and set-up.
Create a video or hold a practice video conference with a friend or family member to test your equipment and set-up. If you are able, record the video conference, as Zoom allows you to do. Then, see if there are adjustments you need to make.
Prepare Yourself.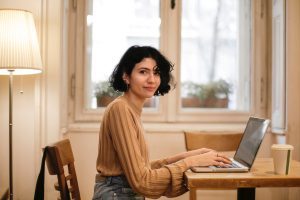 During in-person meetings, people's eyes may stray and they may not look directly at you as much as when you're communicating via video. This is why it's important to pay extra attention to your personal appearance.
Dress for your meeting.
If you are in sales or making an investor pitch, dress the way you would for an in-person meeting. If you work in an environment where casual dress is the norm, dress accordingly.
Know that you may need to stand up at some point during your video call, for some unforeseen reason, so avoid wearing pajama bottoms or making other clothing choices you will regret.
Avoid wearing noisy jewelry.
This is a good rule any time you will be on camera.
Wear clothing that is not too distracting.
A great pattern that would look fantastic in person can be distracting when you're viewed on video. Beware of very low necklines or anything that might result in a wardrobe malfunction.
If you wear make-up regularly, you might want to apply a little more.
For people who wear make-up consider adding a bit more or brightening it up a bit for your video calls and meetings. The camera tends to wash people out. If you're not used to wearing make-up, you may still want some face powder that matches your skin tone to control shine.
Test your appearance and outfit by taking a quick video of yourself moving around before meetings or shooting videos.
Once you know what works and doesn't work on camera, you can plan your wardrobe accordingly for upcoming videos and virtual meetings.
Request that others around you are quiet and refrain from interrupting you.
This can be a challenge if you have small children or pets but do your best. If possible, have someone watch over them and keep them in a separate room while you are on video calls. If you are interrupted, ask the people on the video call or meeting for a moment to handle the situation, which would be better than trying to shout over a barking dog or noisy child.
Set aside time to prepare mentally for your meeting, presentation or video.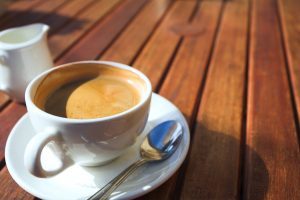 When working with my clients, I teach them a preparation ritual to help them manage nervousness and focus their minds before presentations, media interviews, and other high-stakes situations. Shifting your energy and preparing to be fully present for your meeting or presentation can help you to perform better and will make a vast difference in the way you feel and are perceived.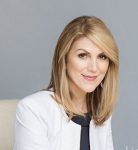 This post was written by Lisa Elia, a media trainer, presentation trainer, pitch coach, communication expert, and speaker. She trains clients around the world for media interviews, speeches, internal and external presentations, panels, investor presentations, and promotional videos, and provides executive and team communication coaching.
With more than 25 years of experience, Lisa has prepared clients for interviews with TODAY, GMA, The Wall Street Journal, CNN, ESPN, and hundreds of other outlets. Lisa has shared her expertise with national media outlets that include Inc., Entertainment Tonight, E!, and many others. Clients include entrepreneurs, Fortune 500 companies, and everything in between as well as athletes, celebrities, and other public figures.