We are living in a time of the greatest uncertainty that many of us have ever experienced. For most people, much of life beyond the present day is a question mark. Opacity and a lack of communication lead to mistrust and frustration.
The people who deliver clear information with genuine caring stand out and attract our attention. They represent the beacons of light, warm hearths, and steady presence that we crave at times like this. One doesn't even need to have all the answers if a bit of direction, comfort, and confidence is conveyed. Some understanding of what lies ahead, even if it's challenging, helps us to prepare.
Now more than ever people are seeking transparency, clarity, and compassion from politicians, business leaders, and others. What is needed is order in a time of chaos, calm in a time of crisis. We can also give this to the people in our lives.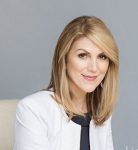 This post was written by Lisa Elia, a media trainer, presentation trainer, pitch coach, communication expert, and speaker. She trains clients around the world for media interviews, speeches, internal and external presentations, panels, investor presentations, and promotional videos, and provides executive and team communication coaching.
With more than 25 years of experience, Lisa has prepared clients for interviews with TODAY, GMA, The Wall Street Journal, CNN, ESPN, and hundreds of other outlets. Lisa has shared her expertise with national media outlets that include Inc., Entertainment Tonight, E!, and many others. Clients include entrepreneurs, Fortune 500 companies, and everything in between as well as athletes, celebrities, and other public figures.