Be Prepared To Excel
Before you take the stage, step in front of a microphone or deliver a presentation,
prepare, practice and polish.
We're here to help you do it right.
Media Training ● Presentation Training ● Pitch Coaching ● Communication Consulting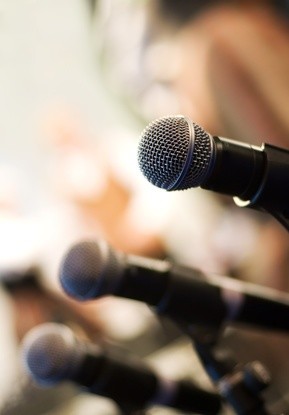 Most people underestimate the precision and practice that precedes the speeches, interviews and presentations that are the most engaging, effective and seemingly natural.
Knowing a lot about a topic is not the same as being able to verbalize your thoughts about it eloquently and concisely.
Careful thought must go into determining which facts, stories and words of inspiration should be shared, and how, where and when they should be communicated.
Maybe you have this part of your communication handled. If not, we can help you with message development and clarification.
Once your messaging is clarified, it's time to master your content and polish your delivery.
We will prepare you for the demands and specific requirements to shine in the various media formats, presentation situations or pitching environments you will encounter.
You will leave our training with knowledge, experience practicing for what's ahead, and elevated communication skills that enable you to consistently deliver clear, memorable content with confidence and magnetism.
For more than 20 years, we have successfully trained clients for interviews with top media outlets, investor pitch meetings, promotional videos and a wide variety of presentations and speeches.

As a Los Angeles-based media training and presentation training firm, most of our clients are in Los Angeles, Orange County and San Diego, but we also travel and provide remote training programs to people throughout the world.