Presentation Training for Startups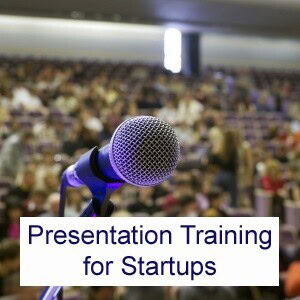 Lisa Elia provides startups with the opportunity to receive affordable and high-quality coaching for their sales presentations, investor presentations or other important presentations.
With this training program, you receive live presentation training session with Lisa Elia, held via videoconference. During this session, Lisa will work with you on refining your delivery and ensuring that your presentation serves your goals and strategy.
Your session will be videotaped and audiotaped, so you can watch or listen to the recordings later.
You will also receive "Presenting Excellence: Public Speaking Tips" booklet. This booklet, written by Lisa Elia, is filled with tips for presenting brilliantly in meetings or from the stage.
We also provide presentation training for executives, entrepreneurs and just about anyone who wants to refine their presentation skills.

Call us to discuss your needs, at 310-479-0217.
About Lisa Elia, the Lead Trainer and Founder of Expert Media Training®
From an early point in her public relations career, Lisa Elia's clients turned to her for advice on strategies that extended far beyond those provided by a media trainer or PR professional. She sharpened her skills as a business strategist and tapped into the ability to make high-level connections between people and concepts, which she had developed as a publicist. For her clients, she facilitated high-level product distribution deals, co-branded promotional ventures, national and international charity alignments, and other game-changing initiatives.
A focus on the overall business strategy for the client is maintained throughout the media training and presentation training that Lisa and our team provides.
Lisa had initially built her brand as a media trainer and PR expert through the successes she created for clients, taking those who were unknown or who had very little prior press coverage, and catapulting them into the national spotlight with appearances on The Oprah Winfrey Show, Good Morning America, CNN and other top national TV shows, as well as print and radio interviews with Clear Channel Radio, USA Today, People, TIME, The Wall Street Journal, and hundreds of other outlets.
After more than 25 years as a media trainer and publicist, Lisa transformed her successful public relations company, Lisa Elia Public Relations, into Elia Erickson Consulting, and shifted her focus to sharing her advice through programs that teach people how to get publicity for themselves, as well as providing business coaching and consulting. She also launched Expert Media Training® as a separate division, providing media training and presentation training services, which is something she had previously only provided to her publicity clients, but she now provides to clients worldwide.
Click here to read more about Lisa: https://expertmediatraining.com/media-trainer-and-presentation-trainer-lisa-elia/