Speaker and Panel Moderator Lisa Elia
The content on this page is geared toward speaking bookers. If you're interested in hiring Lisa Elia for media training, presentation training, pitch coaching or communication coaching, you can learn more on our Services page. Or, feel free to call us at 310-479-0217.
A sought-after presenter who engages and motivates audiences, Los Angeles-based Speaker and Panel Moderator Lisa Elia delivers information-packed presentations to attendees that range from solopreneurs to C-level executives. She is a media trainer and communication expert, and the CEO and founder of Expert Media Training™. Over the past 20 years, she has delivered presentations for Marketwired, The Entrepreneur's Institute, UCLA Anderson School of Management, University of Delaware, and hundreds of other organizations.
To book Lisa Elia as a speaker or panel moderator, call our office at 310-479-0217.
Partial List of Clients
Adli Law Group
Blue Cross/Blue Shield
California State University, Fullerton
Casoni Law Group
Chrysalis
Events in America and EventBrite
EWomenNetwork
Fashion Business, Inc.
First Tuesday Los Angeles
Follea, Inc.
Holistic Chamber of Commerce West Los Angeles
International Federation of Coaches Los Angeles
Leadership Connection for Childcare
Marketwired
National Council of Jewish Women LA
Speaker Services
UCLA Football Team
UCLA Anderson School of Management – The Entrepreneur's Institute
The Urban League of Los Angeles
Universal Music Group
University of Delaware, Small Business Development Center
.
Lisa as a Panel Moderator
Lisa has been the panel moderator at several large events, including her two Meet the Media Day events, during which she interviewed members of the press, from The Associated Press, Clear Channel Radio, SELF, Los Angeles Times, Natural Health and other top outlets.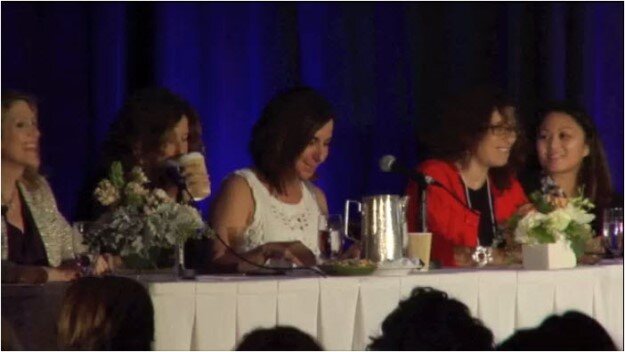 .
Topics on Which Lisa Elia Can Present Include:
(Presentations are customized for each engagement.)
5 conversation killers to avoid
10 communication shifts that will change your life
Managing media interviews in a time of "everyman journalism"

What every executive needs to know before any media interview

Managing social media messages to maintain your public image
Preparing for crises before they occur: proactive crisis communication planning
Fancy footwork: body language tips and tip-offs

And many other topics

.
Media Training Workshops
Lisa provides interactive, on-camera media training workshops in which she teaches preparation techniques, educates participants on working with the various interview situations presented by the media and conducts practice media interviews.
To book Lisa as a speaker or panel moderator, contact our office at 310-479-0217.
Email us at team@expertmediatraining.com
.
Lisa has shared her expertise in national media outlets that include:

.
To book Lisa as a speaker or panel moderator or to lead media training workshops or private sessions, contact our office  at 310-479-0217 or team@expertmediatraining.com
Connect with us on social media: